Conference Program
---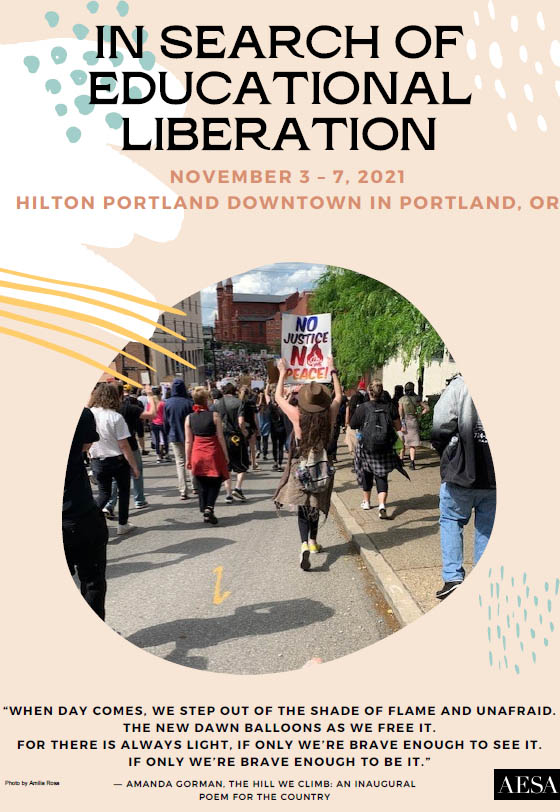 The AESA conference is two weeks away and we are excited to share with you the final program. Before sharing details about the program, we acknowledge that many of you are not able to join us this year. We want you to know that you will be missed and that we look forward to seeing you at AESA next year in Pittsburgh.
For those of you who are able to join us, we look forward to seeing you! The Program Committee worked diligently to create a program that speaks to this critical moment in educational history. We believe that you will enjoy it.
Before you look at the final program, you should know that we had an exceedingly large number of cancellations and requests to change the program due to COVID-19. We attempted to make every change that we received. Please know that any error on our part is an oversight and we apologize in advance.
Also, a couple of reminders about attending the conference.
All attendees are required to show proof of vaccination (i.e., two weeks past two shots of an mRNA vaccine or one shot of a single-dose vaccine) or present a negative test no earlier than 72 hours before arrival to the conference to the AESA registration desk. In the strongest possible terms, we encourage all members who can be vaccinated to do so as soon as possible. Following current CDC guidance, a booster is not required in order to be considered fully vaccinated. Please do not attend the conference if you cannot provide proof of vaccination or a negative PCR test.
Attendees and presenters are required to wear masks while attending sessions. Portland, Oregon, law requires the wearing of masks in all public indoor settings for ages 5 and up, and in most outdoor spaces, where distancing is not possible.
Meeting rooms are set with reduced capacity in order to increase space between seats. If all seats are taken, the session is full. Standing/sitting around the walls and in the aisles is not permitted during sessions.
Masks are required while traveling through indoor common areas like hallways and lobbies. Disinfecting stations with wipes and hand sanitizer are available throughout the meeting facilities.
Public areas of the hotel are cleaned at scheduled intervals, including hourly maintenance of high touch areas like elevators and bathrooms.
Some businesses and restaurants in Portland are requiring proof of vaccination for entry. Please be prepared to share your card or photo of your card, especially when visiting establishments outside of the conference hotel.
Please click here to download a printable PDF of the program.